Moving to VoIP breaks the traditional and often expensive phone supplier contracts, in addition VoIP brings call charges down as the Internet allows data to traverse the globe without any cost, therefore the charges represent the final short hop between the Internet and the local last few miles of phone cable. Traditional phone networks would rely upon a call traverse many telecom networks each adding a small charge before the call terminates at its destination, thus the further afield the greater the call cost. Even within the UK this change in technology has brought about great change and one of the key reasons why local and national calls are now the same price.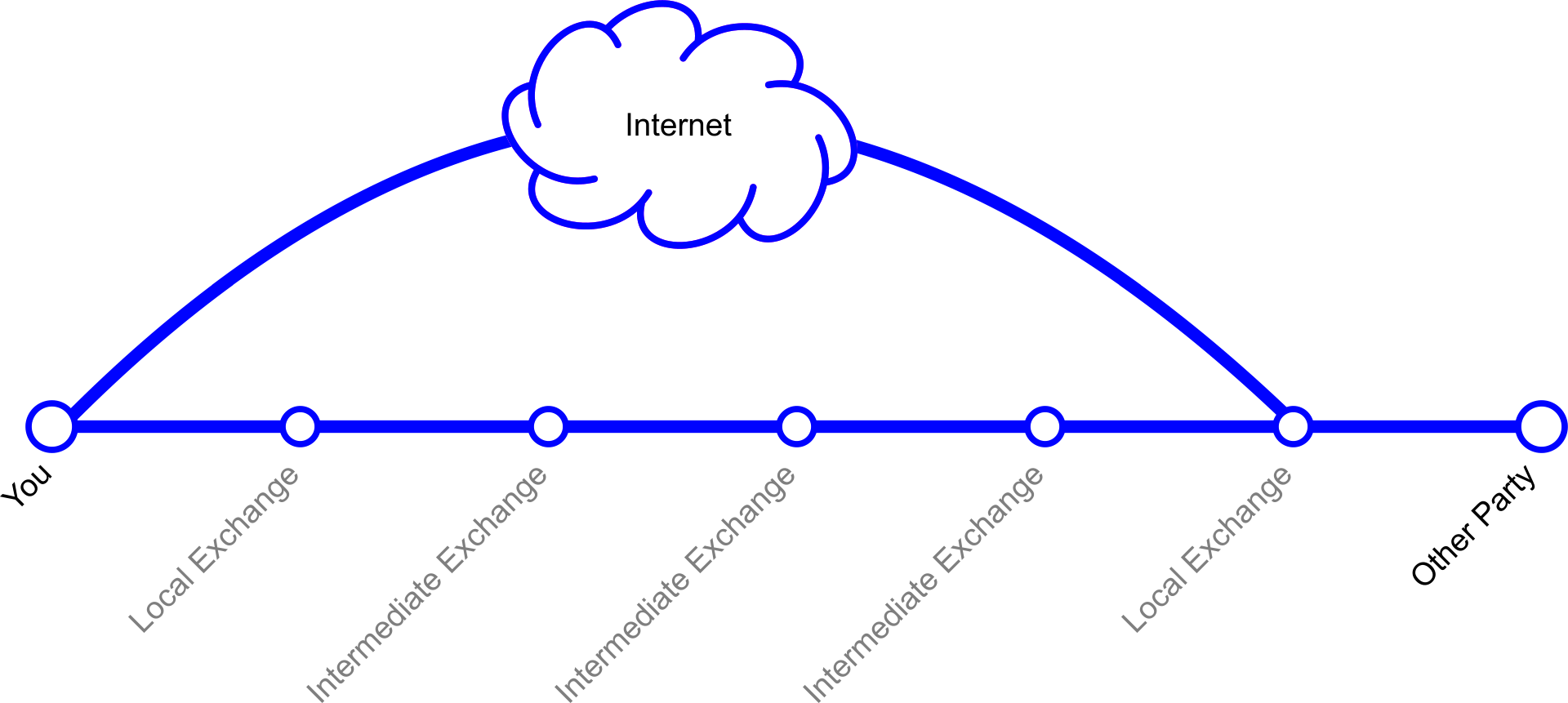 In addition to this many don't realise BT business rates are far more expensive than those you'd pay as a consumer at home. Our VoIP charges are the same regardless of if your a home consumer, school or business user. This alone can save a school hundreds if not thousands of pounds cost each year.
Call charges shown below are each suppliers standard rates without any discount bundles, calling plan or subscriptions added. With BT Call Essentials standard UK landline costs drop to 5p per minute, plus 2p call setup, this is still seven times more expensive than our standard rate.
Our calls are billed by the second, with a minimum of 20 seconds charged per call with no call setup charges. So a call that is 20 seconds or less to a landline UK number will cost 0.334p, the same call with BT will cost 7p (on Call Essentials) or 50p without any discount plan. Those calls where you reach someone's voicemail where you leave no message really cost a lot more!
Number
Surftec VoIP
BT Business
Per Minute
Per Call Setup
Per Minute
Per Call Setup
UK Landline (01, 02, 03)
1p
0p
25p
25p
UK Access Charge (084, 087, 09 & 118)
Service charge differs based on organisation you are calling, see Ofcom for further detail.
2.5p
See Ofcom
25p
See Ofcom
UK Mobile
(EE, O2, Vodafone, Three)
9p
–
25p
25p
Argentina
2.88p
–
300p
25p
Austria
2.4p
–
110p
25p
Australia
2.88p
–
170p
25p
Belgium
1.84p
–
110p
25p
Brazil
2.6p
–
300p
25p
China
2.33p
–
300p
25p
Croatia
5.73p
–
250p
25p
Cyprus
2.51p
–
250p
25p
Denmark
2.04p
–
110p
25p
France
1.38p
–
110p
25p
Germany
1.56p
–
110p
25p
Greece
2.42p
–
110p
25p
India
2p*
–
250p
25p
Ireland
1.3p
–
75p
25p
Italy
1.3p
–
110p
25p
Jamaica
12p
–
300p
25p
Japan
4p
–
170p
25p
Korea (S)
4.64p
–
300p
25p
Netherlands
2.42p
–
110p
25p
Mexico
1.3p
–
300p
25p
New Zealand
3.2p
–
170p
25p
Norway
1.3p
–
110p
25p
Pakistan
12.8p
–
250p
25p
Poland
2.56p
–
170p
25p
Portugal
1.3p
–
170p
25p
Russia
1.5p
–
250p
25p
South Africa
4.5p
–
170p
25p
Spain
1.3p
–
110p
25p
Sweden
1.3p
–
110p
25p
Switzerland
1.9p
–
110p
25p
Turkey
4.8p
–
250p
25p
USA
1.3p
–
110p
25p
Notes

No connection charges or setup fees.
Calls billed by the second, minimum duration of 20 seconds.
Calls within the network, between extensions are free – anywhere in the world.
All prices exclude VAT.
Please factor in mobile data usage fees when using away from wireless Internet.
These prices are our standard rates, before any discount bundles or packs or negotiated bulk discounts.

BT prices are based on their standard tariff, lower costs can be obtained by subscribing to their discount call plans.
In comparison even with the best call plan on offer landline call charges are 5p (4p more expensive).
Mobile charges are 3p less but do include a call setup charge so for short calls we may be cheaper overall.